Behind CodeBrew Hackathon 2019: A Look Back
Author: Lenka Šedivá  |  Published: 24.1.2020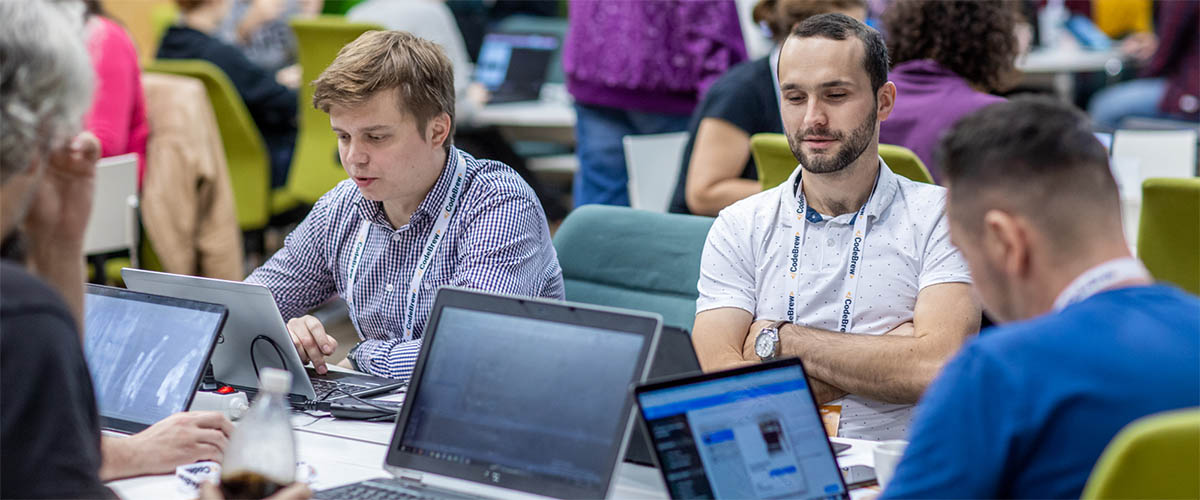 Hackathons organized by ENGETO Academy are not a new thing – when it comes to relentless coding, we have plenty of experience! But after 4 successful, occasional hackathons, we realized that we needed a bigger challenge! And thus, CodeBrew was born. This is how it happened.
CodeBrew Hackathon 2019 was the very first event with this playful name. It was attended by 136 hackers, 25 mentors, and 20 organizers, making it one of the biggest events of this kind in the Czech Republic.
"We wanted to create a great event. Not just educational, but competitive as well. A regular hackathon, with its own unique brand, which would take place every year in November in Brno, our city," said Marian Hurta, co-founder of ENGETO Academy.
Coders United
Marian says that ENGETO's mission is to prepare people for the tech future and help them achieve their first position in the IT.
But making it in the IT is not just (as jokes and movies would suggest) about becoming a lonely, grumpy coder, the odd one out. On the contrary, we know from experience that coders love interacting with the community, learning from one another and working as one team to achieve the impossible!
"It's all about learning new skills, meeting great people and getting new experience. At ENGETO, we often talk to HR people from big companies, which are hungry for candidates. And being good at programming is just one side of the coin. It helps to be part of the community and being able to learn from others. That is what makes a really good candidate," explains Marian.
Long story short, CodeBrew turned that dreadful activity of networking and making new friends into great fun. The attendees worked in teams on exciting projects under the guidance of skilled mentors from international companies. Five main tracks covered various programming areas, such as Python, Java or C#.
"Each of the tracks represented a different challenge: hackers were building a working virtual assistant, using AI to win a car race or learning to program a drone. And what would a competition be without a prize for the best hackers of the event? The winning team called NotSoFast took home a reward of 25 000 CZK," says Marian.
Don't Forget the Pizza
The 2019 hackathon was supported by seven partners. Hackers could meet and chat with people from CGI, FNZ, ARTIN, Solarwinds, Phonexia, Kiwi.com and RedHat. Don't be mistaken, though, the night was not about mindless headhunting. There was too much pizza and beer involved!
By the way, here are some of the Codebrew numbers worth mentioning:
36 HOURS

was the total time spent coding at the event

360 LUNCHES

were given out to the coders

180 PIZZAS and 200 CHLEBICKY

were mercilessly eaten

 

53 KILOGRAMS

of fruit, because a healthy coder is a happy coder

250 LITRES OF BEER

disappeared in the thirsty throats
300 ENERGY DRINKS helped us survive the long night
Check out the cool atmosphere of CodeBrew 2020 in our video recap:
Or download the photographs and see if you can find yourself!
See You Next Time!
We are very happy that the CodeBrew hackathon proved to be a success among the coders. When asked, more than 95 % of the attendees were very satisfied. 
Rest assured, we are committed to bribe that 5 % with extra pizzas next year to make it to 100 % (just kidding: we loved hearing the feedback and we are working on making CodeBrew even better next time).
"We would like to thank all the participants, mentors and companies for making such an epic event happen! We are truly looking forward to the next year," concludes Marian.
For those who are as excited about CodeBrewing it all night long as we are, we have already opened the waiting list for the 2020 hackathon. You can join it here and be the first to know all the news & updates. Until next time, CodeBrewers!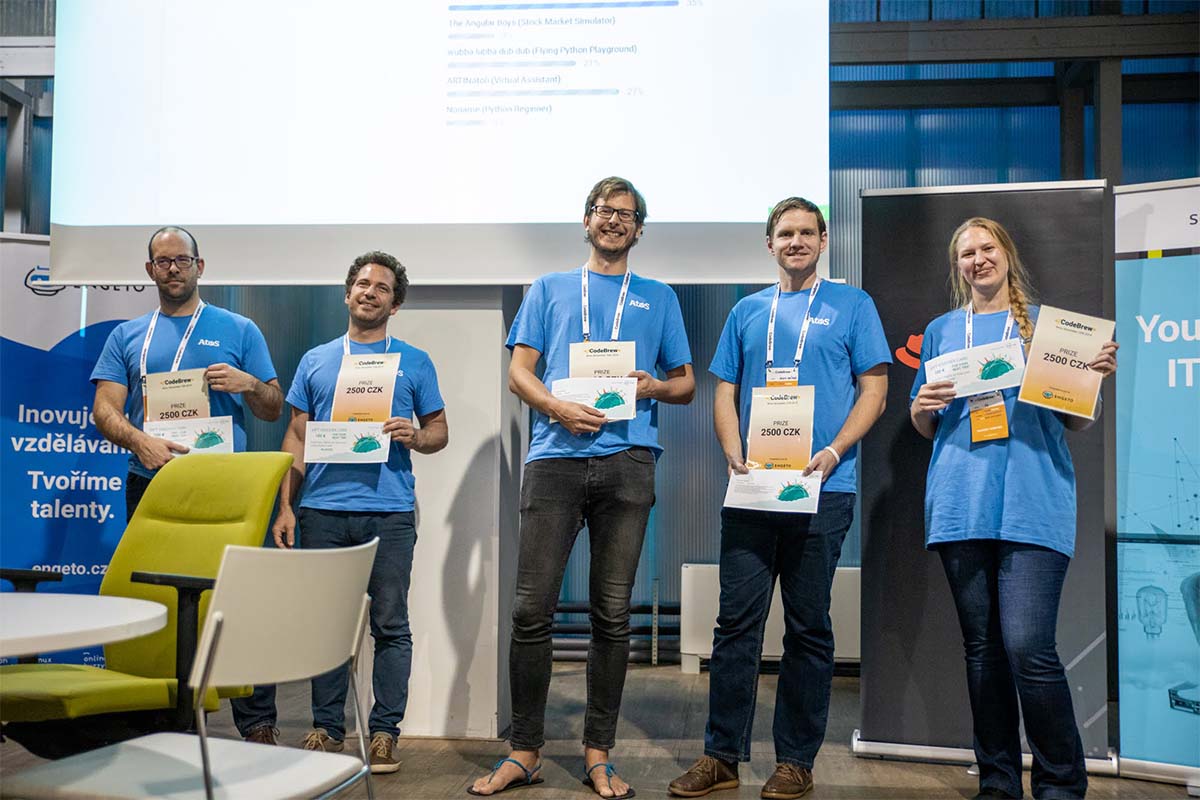 The overall winning team NotSoFast.
CodeBrew 2020 waiting list
Join now and form the future of IT!